As cats get older, they become less mobile, and may even develop illnesses that affect their litter box habits. Read this guide to find out what is the best litter box for elderly cats in your household.
DISCLAIMER: This post may contain affiliate links. If you click one of these links and decide to make a purchase, we may receive a small commission. This comes at no extra cost to you and helps to keep the site alive and up to date. If you want more information, please review our Privacy Policy. Thank you for your support!
A Quick Look At Our Favorites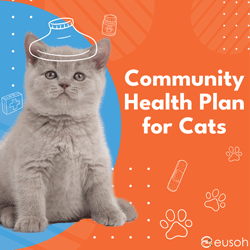 Best Litter Box For Elderly Cats Reviews
As the name reveals, the KittyGoHere Senior litter box was designed specifically to accommodate older cats with limited mobility. The pan has a very low edge all around, making it the best low entry litter box for older cats with arthritis. So no matter where you put it, your elderly feline will find her way into this litter box with no problem.
Of course, such a low entry litter box for senior cats does allow for the litter to spill out more. But with older cats this isn't that big of a deal. Especially if they are arthritic, as their paws will simply hurt too much to go around and dig up their litter box.
And you only need to add a light layer of cat litter to this pan. Just enough to soak up the pee, basically. If you want to make your life really easy, then use disposable litter liners underneath the litter. That way cleaning the litter box is simply a matter of picking up the liner, tossing it out and placing in a new one with some fresh litter.
But even without a plastic liner the KittyGoHere Senior litter box is super easy to clean. It's lightweight, so easy to pick up. And there are no ridges in the pan where the litter can get stuck. Just dump it out over the garbage bin and give it a quick wash.
The material is durable and will last a long time. If your elderly cat sadly ends up passing away, don't throw out the litter pan. Hold on to it in case you decide to adopt a new kitten in the future. Because a low litter pan like this one is also perfect for litter training small kittens.
What We Like
Low entry
Lightweight
Easy to clean
Roomy
Works for kittens too
The Purina Tidy Cats XL litter box with Breeze pads and pellets is a great choice for older cats of all sizes. It's a super low entry litter box, so your cat will have no trouble getting in and out. The interior is very roomy. Big enough for an overweight cat, or even a Maine Coon.
But the best feature of this litter box for older cats is its superior odor control. This is how it works.
The bottom has a hidden compartment that slides out. Put a Breeze pad (or an unbranded puppy pad) in the compartment and close it. Then put a light layer of the Breeze pellets or another non-clumping litter of your choice on the grate in the litter box, and you're done. Be sure to check that all pieces line up correctly, or you might end up with some leakage.
Whenever your cat poops, it will lay on top ready for you to scoop out. Meanwhile, any urine seeps through to the bottom and into the pad. Under normal circumstances, all you have to do is replace the pad once a week and the litter once a month. However, if your cat is plagued by increased urination from an illness, you're gonna want to replace it more often.
The only thing to be mindful of with the Breeze Tidy Cats system is that some cats like to eat the Breeze litter pellets. Contrary to what the marketing department at Breeze may want you to believe, these pellets do not break down in the stomach and can end up clogging your cat's intestines. If you find your cat snacking on this litter, please take her to the vet and switch to another litter immediately.
Luckily you don't have to use the Breeze pellets to enjoy all the benefits of this litter box, so I would still recommend it for your older cats.
What We Like
Great odor-control
Very big
Low entry
Super easy to clean
Needs cleaning only once a week
What We Don't Like
Some cats eat the pellets
Some owners report leaking
Noisy when digging
Nature's Miracle High-Sided litter box is a basic plastic pan with, you guessed it, very high sides. If your cat is getting older, but still likes to mark his territory by spraying, then this litter box will be a lifesaver.
Besides the high sides, it also has a low entry for senior cats. So even the most mobility-challenged of cats can stroll in like he owns the place. As a trade off, you won't be able to put very much litter into the pan. And that does mean you will have to clean it more regularly. However, this is easily done, as the surface has a non-stick antibacterial coating that makes cleaning it a breeze.
As with most non-stick coating that I've encountered, this one also wears off after a few months of use. You can make it last longer by using light, non-corrosive detergents to clean it, although it can still fall victim to your cat's scratching claws.
Alternatively, you can consider using a litter box liner. Secure it tightly around the front entry, so that your cat can still get in and out with ease.
What We Like
Antibacterial coating
Low entry
Easy to clean
Non-stick surface
What We Don't Like
Doesn't hold much litter
Non-stick coating wears off
Spillage and tracking
The Petmate Hi-Back litter box is an open pan with sloped sides that are low in the front and high in the back. This is the perfect litter box for older cats that still like to get frisky in the litter box. They can step in easily, have enough space to turn around and can then dig or spray their heart out. Meanwhile, your walls and floors will stay protected from an onslaught of litter and urine.
Because the edges don't have any big dips in them, this litter box for senior cats is also perfectly suited for use with litter liners, which I do recommend you use. The plastic is covered with a non-stick coating, but this tends to wear off over time. This will happen faster as your cat digs or scratches the box more.
A litter box liner will help to protect the litter box, so you can get a better use out of it. On top of that, this is also a rather sizable litter box. Filled up with litter it quickly becomes difficult to pick up off the floor and dump out. A liner immediately eliminates that problem. Plus, it will encourage you not to put too much litter into the pan to begin with, because that would just be a waste of money.
One reason you might not want to go for the Petmate Hi-Back is if your cat likes to walk on the edge of her litter pan. If she tries to do that with this one, there's a good chance it will tip over and spill all the contents onto your floor. I always recommend laying a litter mat down under your litter box, just in case something like this happens.
What We Like
Non-stick coating
High back
Low entry
Suitable for use with litter box liners
The SpeedySift litter box was designed to improve the lives of cat owners by making it easier to clean the litter box. Whether or not it succeeds at that, we'll get to in a minute. The reason we like this litter box for older cats is the low litter pan that forms the base of the system. It is a no-frills, easy to use and easy to clean plastic pan that will do the job for most elderly cats.
The full system includes the pan, a corrugated plastic contraption that covers the sides and a set of sifting liners. The liners are key. They have holes in them, all offset differently so that none of the liners' holes line up with each other. This ensures that, when you pick up the top liner to sift the litter, the litter is caught by the second liner, without falling through to the third liner.
The sides are there to sort of keep the liners in place and, naturally, reduce spilling and other messes. They are flimsy at best, but replacements can be bought separately. You can also cut it to size if the entrance is too high for your cat or you want to remove the walls. That way you can customize your own litter box for older cats in your house.
A few notes on the litter liners, though. The idea of putting multiple liners in at once and offsetting the holes for sifting may sound good in theory. But in practice it doesn't really work out.
First, the liners can't withstand a whole lot of litter before tearing when you try to pick them up. Second, even if your cat does a minimal amount of digging, there is a good chance she will scratch and tear the liners as time goes by, effectively rendering them useless. Third, the sifting process itself takes a long time and creates a lot of dust that flies straight up into your face.
So, it's a 'yes' on the litter box, but a firm 'no' on the liners.
What We Like
Low entry
Sifting litter liners
No scooping needed
Replaceable parts
Works for kittens too
What We Don't Like
Flimsy
Liners tear easily
Sifting takes a lot of time
Heavy to lift full bag for sifting
It may not look like much, but the KittyGoHere Senior litter box for senior cats will make a big difference to your aging cat. In our opinion, it is the best litter box for elderly cats on the market. It's a low entry litter box, so your cat can get in from all sides and has enough room to do anything she would on a regular box.
The fact that it doesn't hold much litter isn't a bad thing when you consider that it will force you to keep your kitty's litter box clean at all times. A healthy litter box routine is just another way to ensure that she has a long and happy life.
Common Health Problems In Older Cats
Aging cats are more frail than their younger counterparts. This has an effect on their daily life, including their litter box behavior. Let's go over some of the most common diseases in elderly cats and how they influence their habits around the litter box.
Chronic Kidney Disease
One of the most common illnesses that has an obvious effect on your senior cat's litter box habits is chronic kidney disease (CKD). The first sign that your cat is in the beginning stages of renal failure is increased drinking and, consequently, increased urination. Your litter box, including the litter you put in it, should be able to accommodate for that, especially if you're away from home a lot.
CKD generally develops slowly over the course of several years, so this is an issue you'll likely be dealing with for a long time. On the upside, if you can call it that, the urine of a cat in renal failure is generally highly diluted and doesn't smell as bad as normal, more concentrated cat pee.
Arthritis
Another illness that affects many elderly cats is arthritis. Arthritis causes inflammation and injury to your cat's spine and joints, which makes it increasingly difficult for her to move around like she's used to. You might notice your cat staying on the ground more, instead of climbing and jumping on things. She won't be as eager to play and may retreat to a quiet corner more often.
When it comes to the litter box, it needs to be easily accessible, without your cat having to step over high edges or jumping down from an elevation. Because lifting up her legs and landing on her paws can be quite painful for an arthritic cat. And if your cat can't reach the litter box, she will more than likely end up pooping on the floor.
Digestive Disorders
A digestive disorder like pancreatitis or inflammatory bowel disease brings a whole other range of litter box problems into play. If your older cat suffers from any of these illnesses, you will be confronted with loose stools more than anyone would like.
Besides feeding her a nutritious diet tailored to their needs, you should also make sure your litter box and cat litter are up to the task. That means it should be easy to clean and not allow odors to be spread around your house.
Obesity
There's also the chance that you(r cat) hasn't been too careful about her diet and she's grown a little out of proportion over the years. It happens.
The size of your cat in relation to her litter box is important to consider. It goes without saying that she should fit into it completely. You don't want to catch her peeing with her rear hanging over the side.
Additionally, the interior of the litter box should be big enough for her to move and turn around in. Aim for around one and a half times the size of your cat.
Get familiar with the top 8 most common illnesses in older cats, so you know what to prepare for and how likely your elderly cat is to fall ill.
Litter Box Requirements For Elderly Cats
Great Odor Control
As with any cat's litter box, you want to make sure your senior cat's box is odor-proof. This not only means it should keep smells from reaching your nose, but also your cat's. A cat with a sensitive stomach can produce a very foul odor. Being confronted with it every time she steps into her litter box will be enough to put her off it for good.
The best way to minimize stink from soft poops, besides taking them out of the pan immediately, is to have them dry out as quickly as possible. You can accomplish this with a quality litter. In my experience, a clumping clay litter with baking soda works best. On top of that, choose a litter pan that is easy to clean, so you can prevent bacteria from building up over time. If you prefer hooded litter boxes, then find one that has a carbon filter to absorb the odors.
Low Entry
For cats with arthritis or other mobility issues, a litter box with a low entry is recommended. This can be a pan with a low edge all around, or one with just a lowered front entry. If your older cat still likes to dig, the latter option is probably a better fit. Because the downside of having a low litter box is of course that the litter is more likely to end up next to the pan.
You can make your own life easier by placing a litter mat underneath your litter box to catch all the spilled litter. For an elderly cat, my advice is to choose a mat with a smooth surface, just in case she has an accident.
Fine Litter
Another thing to consider if your cat suffers from joint inflammation or has unfortunately been declawed is the litter you use. Coarser litters like pressed paper or pine pellets can be painful to walk on for a cat with sore paws. A fine litter will form a smoother surface and feel soft on her feet.
Cleanliness
Even if your older cat is still in good health, pay extra attention to cleaning her litter box. She might be healthy now, but she doesn't have the stamina to fight off diseases like a young cat. A dirty litter box can be a ticket to a premature ending. I'm sure you want to do your part in preventing that.
Make an effort to check the litter box for feces and urine clumps several times a day. Don't leave anything lingering in there. Change out the litter and clean the litter pan with warm water and detergent at least once a week. Leave it to dry completely before you put the litter in, or it will stick to the sides immediately ready to attract mold and bacteria.
Final Thoughts
Elderly cats require a bit of special attention, also when it comes to their litter box. But with a little help and a lot of patience, you can make this part of their old age go as smoothly as possible. That said, if your senior cat starts showing changes in behavior, it is always a good idea to take her to the vet for a check-up. The older cats get, the more ailments they tend to acquire. And many of them first show on the litter box. So keep your eyes, and nose, peeled!