Cat treats are a great way to let your cat know that they are special to you or to give them some extra nutritional support. They are also a handy tool when it comes to teaching a young kitten good manners.
But can kittens have treats? And if so, when can you start giving a kitten treats?
Read our guide on the best cat treats for kittens for an answer to these questions, and more, plus a full review of our top 5 best cat treats for kittens.
A Quick Look At Our Favorites
Can Kittens Have Treats?
Yes, kittens can have treats, just like adult cats. Of course, you should be careful not to give them too much. With the odd exception, cat treats generally don't adhere to any standards for healthy feline nutrition. Kittens still have a lot of growing left to do, and they need good proteins and fats to do that.
Another obvious restriction is that you can't start giving a kitten treats until it has been completely weaned from its mother, meaning that your kitten has transitioned from milk or kitten milk replacer to solid food.
When Do Kittens Start Eating Solid Food?
Different sources give a different answer to this question. Some say it's as early as three weeks, while others say it is better to wait until four, or even five weeks until you switch a kitten to solid food.
Kittens do start to develop teeth at around three weeks old. However, when they are under four weeks old, kittens are still considered newborns and still benefit from their mother's milk and attention. And, similar to humans, some kittens just develop slower than others.
Weaning a kitten too soon can lead to behavioral problems later in life. So, even if they could physically eat solid food from around three weeks of age, it might not be the best thing for them mentally and emotionally.
Can Kittens Have Greenies?
Once your kittens have transitioned to eating solid food, you can start giving them treats. Feline Greenies are very popular and probably one of the first treats that will cross a cat owner's mind. They are often described as "cat crack", because cats can't seem to get enough of them. But are Greenies good for kittens, or cats in general?
Well, the reviews are mixed. A lot of cat and dog owners swear by Greenies treats. But there are also many horror stories out there. And they are worth paying attention to.
When we look at the ingredients for Greenies Dental Treats, for instance, we see that they contain a lot of carbs in the form of binding agents. The first five ingredients listed on any cat food or treat are the main ingredients. For Greenies, three of those five ingredients are binding carbohydrates (ground wheat, brewer's rice, corn gluten meal).
Carbs don't have a natural place in a cat's diet. In fact, a cat's digestive system isn't designed to process them at all. When you feed your cat Greenies, there is a chance of them not being fully digested and actually clogging up your cat's intestines.
A lot of cat owners report finding green bits in their kitten's feces, or little pools of green vomit on the floor. Proving that it is not fully digested. And that's usually just the beginning of it.
There are countless stories out there of cats and dogs falling suddenly ill and even dying after eating only a few Greenies. For some, this happens when they first eat it. For others, this ordeal comes after months of eating Greenies without problems.
Cat owners report everything from rashes and diarrhea to life-threatening intestinal blockages, severe colitis and acute kidney disease after giving their cats Greenies. To me, that is not a risk worth taking. Especially with all the other delicious, healthy treats out there.
So, no, kittens can not have Greenies.
Can Kittens Have Catnip?
Catnip has a weird effect on cats. If it works, that is. Some cats start purring or drooling like crazy, others start running around or meowing your ears off. And some don't react to it at all.
You will have to wait until your cat is about six months to a year old before you can tell if she is into catnip or not. Before that age, she definitely won't react to it. After that age, her catnip sensitivity can slightly increase over time.
So, yes, kittens can have catnip. There just isn't any point in giving it to them, since they aren't sensitive to it yet.
Our Top 5 Best Cat Treats For Kittens
The best cat treats for kittens are treats that serve a purpose beyond just being a tasty snack. You need a treat that is either helpful at motivating your kitten to do something, or one that is especially good for their health.
We have looked at all popular cat treats on the market today and picked the top 5 best treats for kittens. We have taken special care to pick treats for different purposes, so you are sure to find something to your liking.
For more options of cat treats and full nutritional reviews of 1000+ cat foods, please check out our Cat Food Database.
One of the first steps when getting a new kitten is training them to be well-behaved, loveable companions. And as you'll soon learn, nothing motivates a cat like food! The right kind of food, that is.
Cats are notorious for being picky eaters. Your cat not responding to your chosen treat can really throw a wrench in your training plans. And, if they do like the treat, there's the problem of how much you can give them before it becomes bad for their health.
Luckily, there are Fancy Feast Purely Natural Chicken Treats! These treats only have one ingredient: chicken. No preservatives or additives. Just chicken.
Most cats love this lean protein and it's actually one of the best things you can feed them. However, if your kitten is one of those rare few that doesn't like chicken, you also have a tuna and a salmon version to choose from. Just beware of any undiscovered seafood allergies.
With Fancy Feast Purely Natural treats, you can rest assured that you are giving your kitten something healthy that fits into their natural diet. Now there is nothing stopping you from turning her into that dish-twirling circus cat you've always wanted! 😉
You can find a full nutritional review of Fancy Feast Purely Natural Chicken Treats, and the other flavors, in our Cat Food Database.
What We Like
All natural
Healthy
Single ingredient
Great motivator
No carbs
Lickable treats are a great way to give your kitten some extra moisture, especially during or just after the weaning stage. At this point, your kitten just started teething and eating solids will still be a bit of a challenge. Use Hartz Delectables Bisque as a go-between during this phase to make sure your kitten gets enough calories.
Hartz Delectables Bisque comes in two flavors for kittens: tuna & chicken, and tuna. Both contain seafood, so be careful if you know your kitten to be allergic, or if your kitten has never had seafood before.
If your kitten does take to this lickable treat, you can give it to her basically for the rest of her life. Hartz Delectables has lickable cat treats for cats in all stages of life.
It should be noted that this is a treat, and not a wet food. And one that contains quite a lot of carbs. As such, you still have to feed your kitten or cat a healthy wet food next to this treat to give them the nutrition they need.
What We Like
Low calorie treat
Great for picky eaters
High moisture content
Dental problems like plaque and tartar buildup or gum disease (gingivitis) can pose real risks for cats. They can lead not only to bad breath, but also to digestive issues and secondary infections. It is therefore important to start your kitten on a healthy dental regimen as soon as possible.
When your kitten is still young, and has started teething, you can start getting them used to brushing their teeth with a baby toothbrush. However, not all cats will tolerate this.
A great alternative, or extra support, for keeping your kitten's teeth clean is giving them Emerald Pets Feline Dental Treats. These contain ingredients that combat bacteria in the mouth and clean off plaque when your kitten bites into them.
Emerald Pets Feline Dental Treats are a grain- and dairy-free option that is perfectly suited for kittens. The treats have a slightly smaller bitesize than most dental treats, so small kittens can easily chow down on them.
Cat owners report their cats really like these treats. They even work well for cats with food allergies, because there are no grains or dairy added.
One thing to note, however, is that Emerald Pet Feline Dental Treats do contain peas, to which some cats are allergic. Watch out for any unexplained bouts of diarrhea if you give your cat these treats. It might be the peas causing this.
What We Like
Grain free
Dairy free
Freshens breath
Small bite size
Tasty
What We Don't Like
High in carbs
High in calories
Contains peas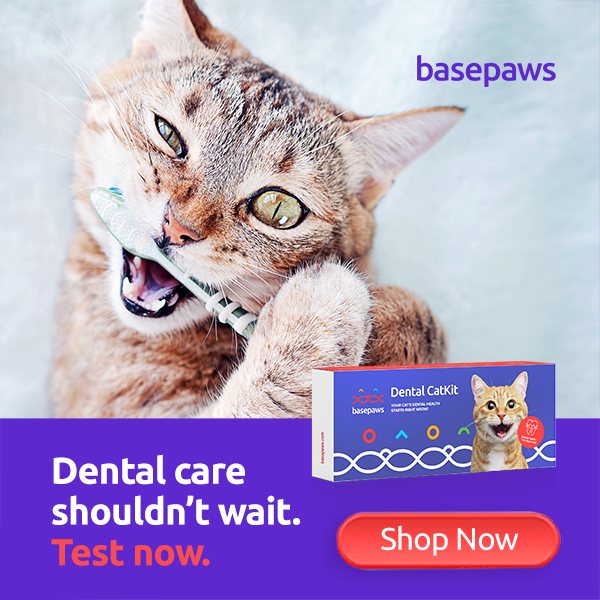 Another great and lifelong help for any cat is good hairball management. As soon as kittens start grooming themselves, you can expect them to throw out the occasional hairball or two. This isn't just uncomfortable for you and them, it can also cause problems with their digestion.
A good hairball treat prevents hairballs from forming in the stomach, and also improves their passage through the intestines. VetriScience Laboratories Hairball Chews were developed by veterinarians specifically with this in mind.
VetriScience Laboratories Hairball Chews contain fatty acids that help keep your kitten's skin and coat healthy. This prevents unwanted hair loss and greatly decreases the number of hairs entering your kitten's digestive tract.
On top of that, the fatty acids work to keep the intestinal lining supple and healthy. The Hairball Chews also contain psyllium husk, which is a purely natural remedy for irregular bowel movements. It works both when your cat has diarrhea and when she is constipated. Just make sure you provide enough clean water for your cat to drink.
We could not find any detailed nutritional information on VetriScience Laboratories Hairball Chews, besides the amounts of the active substances. However, this is not a huge issue. For general digestive and skin care, you only need to give your cat one to two chews daily.
If your cat is experiencing some constipation due to hairballs, you can temporarily increase it to a maximum of eight chews per day.
What We Like
Removes and prevents hairballs
Improves digestion
Healthy skin
Shiny coat
What We Don't Like
Not that soft
Not all cats like them
Growing kittens have a ton of energy. So much so, that you'll likely want some help calming them down a bit. After all, you do need to sleep.
There are plenty of options available to calm a hyperactive pet, especially if you're willing to take the CBD-route. However, that might not be the first thing you want to consider for a kitten.
VetriScience Laboratories Composure Pro's active ingredients are all natural and they actually work! Whether your kitten is anxious, aggressive, or just plain hyperactive, these chews will sort her out.
The only problem with Composure Pro Chews is their dosing. The recommended dosage is half a chew for any animal (dog or cat) under 25 pounds. That's quite a broad range, if you ask me.
A kitten weighs barely a few pounds. Half a chew seems like way too much, and you can only break them apart so far until you're left with crumbs. Some cat parents report their cats being out of whack all day from being given too much Composure Pro, so some caution is advised.
And unfortunately, these treats are often out of stock. If you like VetriScience Laboratories Composure Pro chews and are looking for an alternative, try Pet Naturals of Vermont Calming Treats instead.
What We Like
Single treat solution
Reduces hyperactivity, aggression and anxiety
Works for cats and dogs
Attractive taste and texture
What We Don't Like
Difficult to dose
Doesn't work on all cats
Too strong for some
Winner winner, chicken dinner! Or treat, rather.
Fancy Feast Purely Natural Chicken Treats are our number one choice when it comes to the best cat treats for kittens. With these treats you can start your kitten off with some healthy snacking habits that she will rollover and play nice for!
As with any cat treat, you should supplement it with a nutritious wet food for kittens. This will ensure that your precious kitten gets all the protein and nutrients needed for becoming a fierce and formidable cat.